Howard David Johnson is a contemporary realistic artist and photographer with a background in the natural sciences and history. David works in a wide variety of mixed media ranging from oil on canvas to digital media. David's realistic illustrations have made appearances in every major bookstore and game shop chain in America as well as magazines and educational texts around the world.
Some of David's more prestigious clients have included the University of Texas, the Universities of Oxford and Cambridge in England, The Australian Mint, The National Geographic Society, Paramount Studios, Universal Studios, MGM Studios, Warner Brothers Home Video, ABC/Disney, CBS TV, PBS TV, The History Channel, Enslow Educational Publishers, Adobe Photoshop, Auto FX, Tree-Free Greeting, Verizon wireless, Apple IPOD, Penguin, Doubleday (Now Random House), Harlequin Top Historical Romances, and the History Book of the Month Club, as well as appearing in periodical publications like Popular Photography and the Wall Street Journal.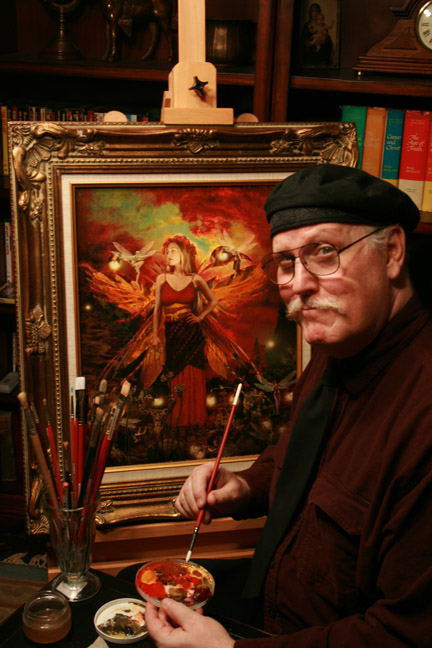 A Traditional style portrait of the artist. [Photo by his son Erich.]
After a lifetime of drawing and painting, David's Traditional Art was exhibited in the British Museum in London in 1996, ( 3 years before he got his first computer ) as well as numerous American ones since, such as the Metropolitan Museum of Art.
Working in a variety of media David offers his customers a variety of options and more than three decades of experience. As an illustrator he has not only used the computer but has been involved in the development and marketing of software for Adobe Photoshop. Digital art, Colored pencils, Pastels, Mixed media, & also Oil Paintings can also be commissioned for select projects.Digital illustration projects start at $500.U.S. and group rates are available. David delivers custom made copyright free illustrations & old fashioned customer service when he does work-for-hire. To publish existing pieces of his realistic art, David sells licenses starting at only $99.USD.