New Realistic Paintings of people in Oils and a variety of other Visual Art Media
M M X Exhibition: Homage to the Masters of Realistic Painting
What is Realism? What makes a Painting Realistic?
In most Realistic paintings the artist attempts to represent persons, scenes, things, and facts as they are, life as it is. The word realistic is used in many senses- as opposed to romanticism, to conventionalism, to sentimentalism, to idealism and to imaginative treatment although it can also combine these themes and many others. Norman Rockwell's work for example was dismissed as commonplace and unnecessary in the 20th century but now shows us a world "Gone with the Wind"... how sad almost ALL of his wonderful paintings were burned.
Traditional History Painting...in new media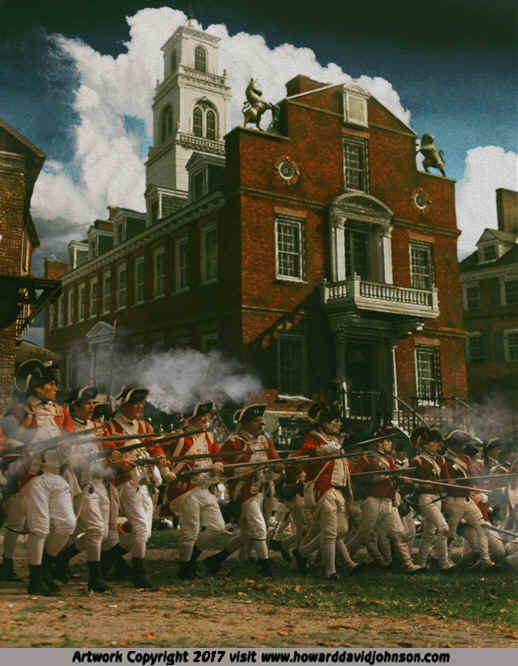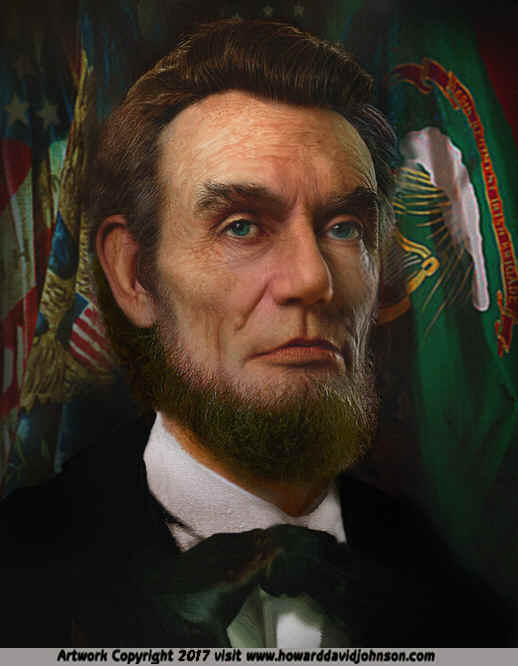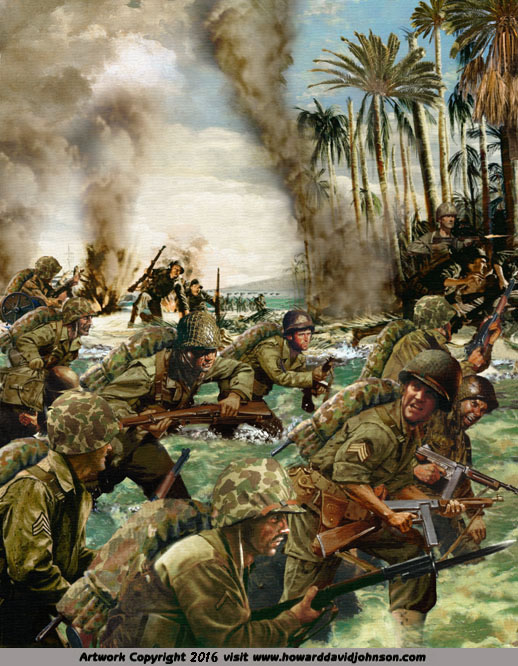 Of all the different kinds of realistic paintings, none are harder than illustration, yet illustration is the least respected. Which do you think would be hardest? To Paint whatever comes easiest to you on a wave of inspiration like a girl in a chair or a bowl of grapes or a tree on a hill with every detail, shadow and perspective already laid out for you or to try and recreate a depiction of say for example, The World War Two U.S. First Marine Division assaulting Peleliu Beach in the pacific? Meticulous research is essential. The weapons, uniforms, troop formations, and the distinctive scenery cannot be faked. Many of the greatest realistic paintings of history combine fine art with painstaking research and illustration. In spite of these facts, all works of illustration have been generally dismissed by elitists as inferior to even the simplest landscapes and portraits.
Anyone who has actually undertaken such a complex task knows better.
And then there is FANTASTIC Realism~
Realistic depictions of unreality as opposed to Realistic depictions of everyday life.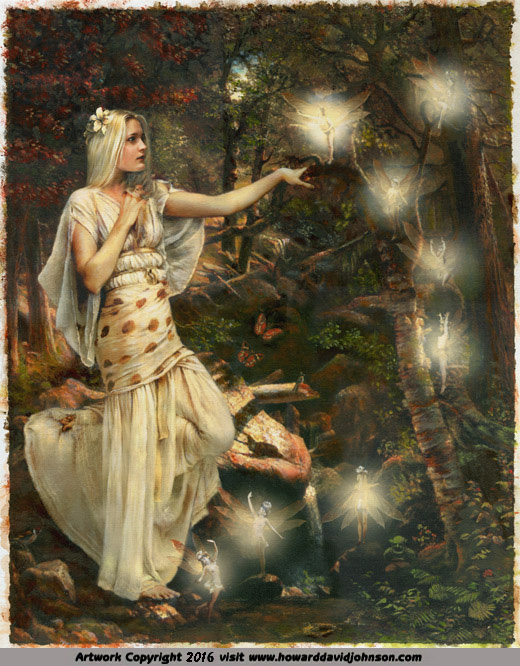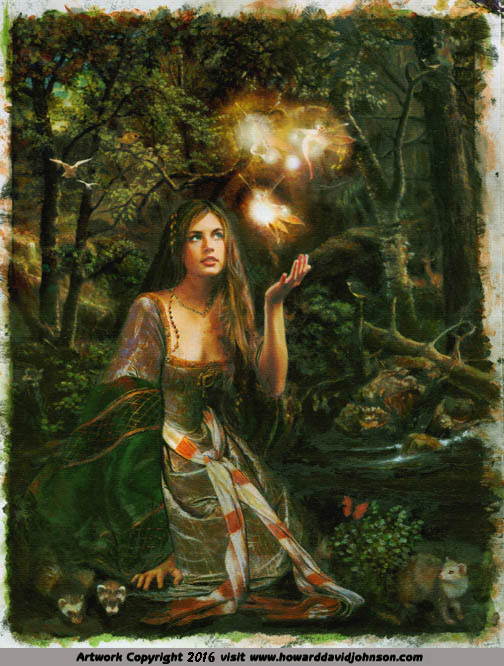 "Faerie Guardians" MMVI is an oil painting on 20x16 canvas and "Sleeping Beauty" MMV is another oil painting this time on 11 x 14 Bristol board.
( Athene, goddess of Justice and Wisdom is one of David's traditional realistic oil paintings and is painted on 20 x 16 canvas. )
Sometimes Realism is a term of praise, and sometimes it can be a term of derision. During the nineteenth and especially the twentieth century the use of the words realistic and realism often implied that the details brought out in realistic paintings were unpleasant, sordid, obscene, or of a generally offensive character.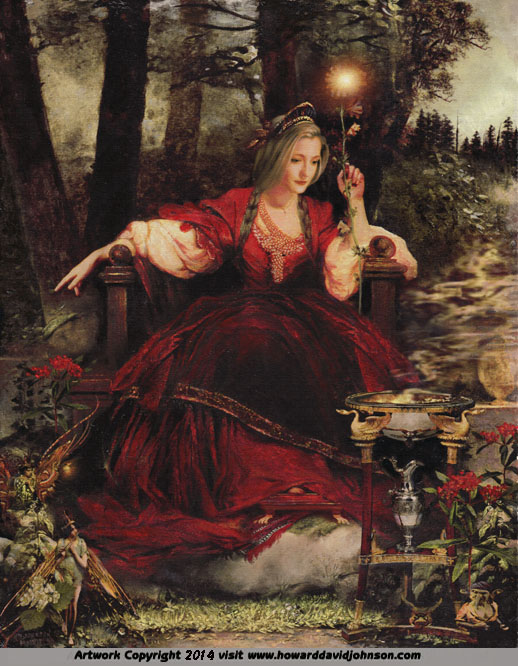 Fantastic Realism: "Into the Lake of Fire" Left is Digital & Mixed Media and "Queen Mab, the Bringer of Dreams" MMVI right is Oil on Canvas.
"All Hallows Eve" MMX is an oil painting on 20 x 16 canvas and "Pandora's Box" MMV is another oil painting on 20 x 16 canvas.
Many 20th century contemporary realistic painters working in the Photo Realism style were trained in an educational system openly hostile or dismissive to Classical realistic painting and art tradition and were only taught the tenets of Abstraction and Expressionism, such as "Art must be offensive, Art must be unclear, technical skill is a hindrance," and so on. As a result many contemporary artists creating realistic paintings are more akin to the abstract and expressionist schools than to the "Classical Realism" of the ancient Greeks which adored mathematical design, beauty and nature.
"Zeus, King of the Olympians" (AKA Jupiter, Depicted with his master thunderbolt) and "Hercules and the Lernean Hydra" (The second of the 12 labors of Hercules) MMXII [mixed media]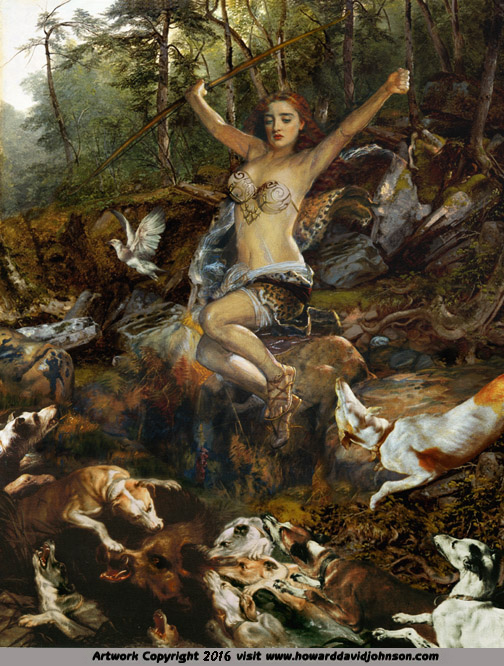 "Atalanta" MMX on the Boar hunt (left) and "Valkyrie Maiden" MMX approaching a battlefield.
The realistic painting tradition and long standing schools of that style of training were cut off for generations in the 20th Century and much of the knowledge of the old masters was lost. The political power of the realistic artist was broken and they were no longer an indispensable member of society. Hostility to creators of realistic paintings goes back to ancient times and the jealousy of advisers to the Pharaohs and Kings who were not allotted as much time with them as their portraitists. For more on history, media, style & technique of realistic & abstract painting see the essays & articles section after the exhibit.
"The Protector of the Forest" MMX from German Fairy Tales and "Baba Yaga" MMX from Russian Mythology.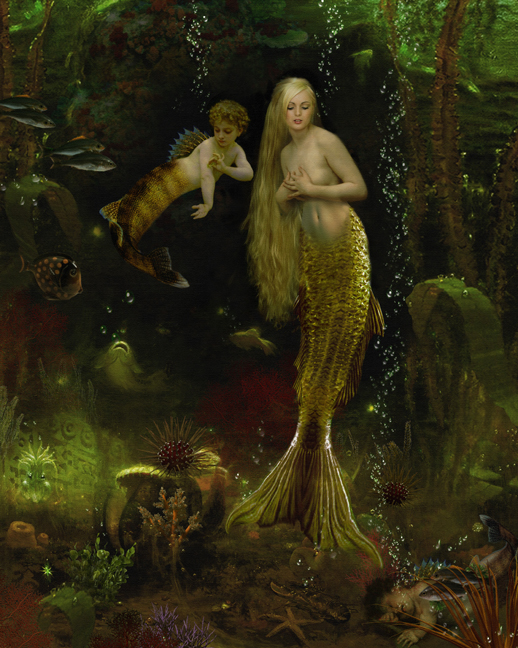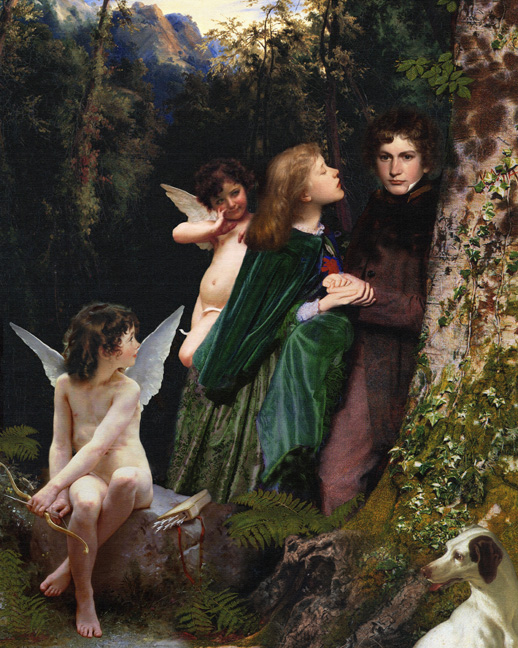 These next few paintings include Oils on canvas, Prismacolor paintings and Digital illustrations incorporating mixed media...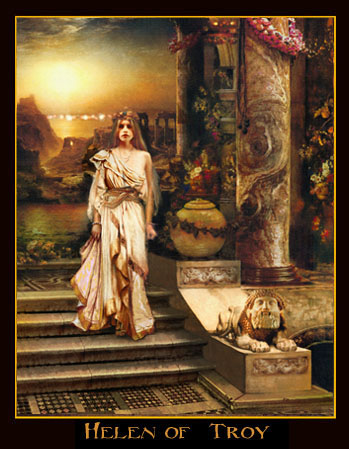 Contemporary Realism does not embrace the mathematics and compositional design of the Classical school of realistic painting (like the golden ratio) but does not frown on beauty. Photo Realism usually strives to look as much like a photograph as possible and sometimes the results are deliberately shocking or disturbing. Photo-Realistic paintings can be brilliant and insightful or can actually be quite mundane and so ordinary as to be boring just like ant other style of art.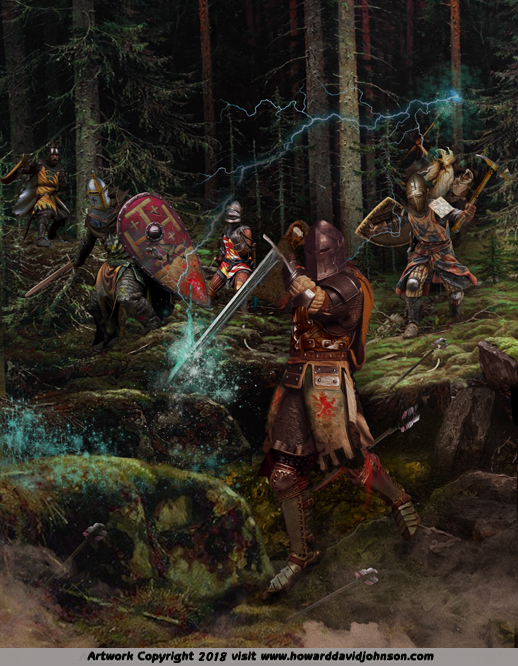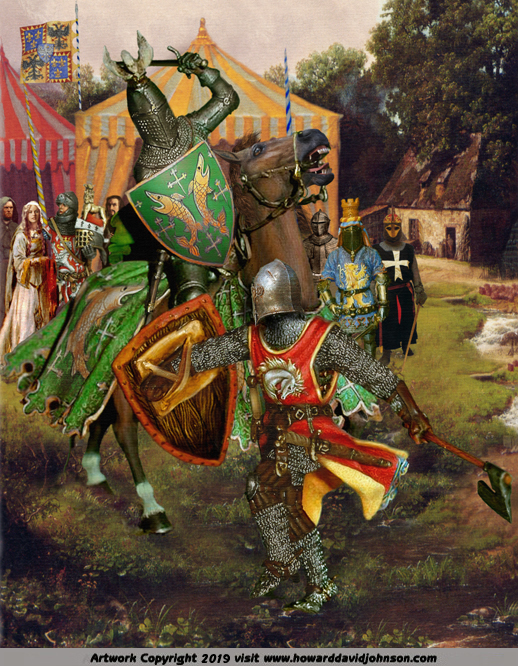 The real mission of Photo realism is not to record everyday life like in Norman Rockwell's realistic paintings, but to expose the unconscious way we look at & accept photographs. The creators of photo-realistic paintings often deliberately decline to select subjects from the natural, beautiful, & harmonious & more especially, depict ugly things & bring out details of an unsavory sort for social commentary & political purposes.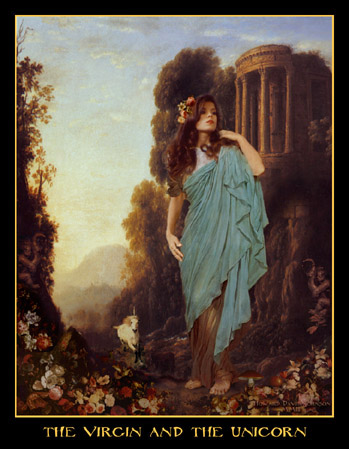 By the 20th century realism had spread to nearly all nations- then realistic painting elements combined with those of Impressionism, Symbolism, & other movements. After decades of repression during the abstract school's stranglehold on the learning institutions and media came the internet and the Realistic Revolt in the early 21st century. The Modern Day Realistic Painter refused to die! The 21st century has seen an explosion of creativity and expression as a new wave of brilliant realistic painters have emerged exploring all these different styles and media with power, eloquence and passion.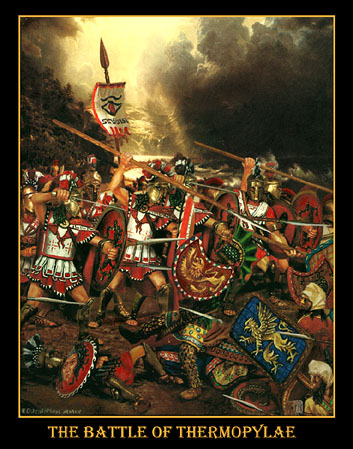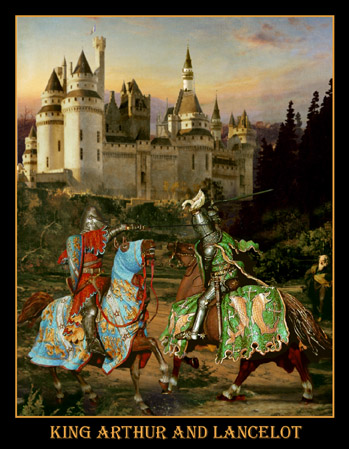 Fantastic Realism is a versatile style of realistic painting in that it can combine with or be a part of the Classical, Contemporary or Photo-realistic schools or stand as a style unique unto itself. This exhibit combines elements from all of these schools of Realistic painting and embraces the natural, the romantic, the fantastic and sentimentality just as much as other gifted contemporary realistic artists passionately avoid those themes, striving for absolute and unvarnished reality.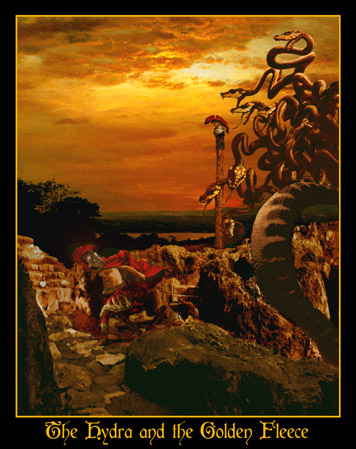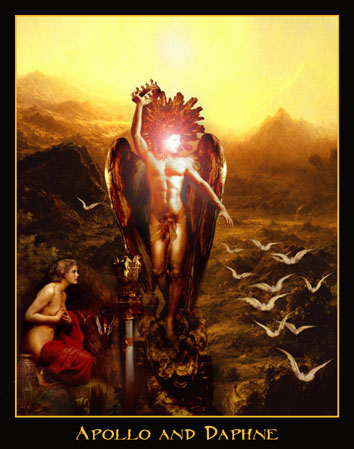 Fantastic realistic paintings as a genre are born of these movements & tied to them in style and technique, but prefer to explore subjects that are strange or strikingly unusual rather than scenes of everyday life or objects. They are often bizarre in form, conception & appearance & even wondrous in their beauty. Sometimes macabre & grotesque, they are rarely boring like the other forms of Realism in visual art so often are. Fantastic Realism can be completely apart from everyday reality, yet appear to be quite real like these fantastic but realistic illustrations from The Holy Bible.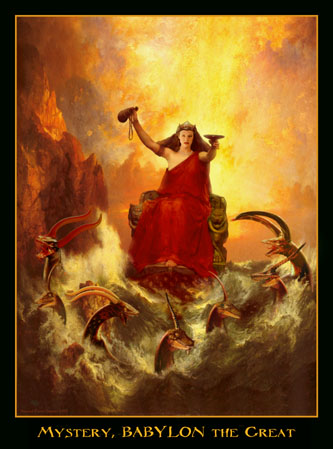 Snobbism in the arts is nothing new. Some people will tell you that oils are the only valid medium for realistic paintings. These next two are 'Prismacolor Paintings', if you will: This art medium, these relatively new soft oil based colored pencils are not the first Dry Painting Medium: the term 'Pastel Paintings' originated in the 17th century. They also are a wet medium, mixing well with a variety of solvents and applied with an artist's brush - getting very oil painting- like results. This kind of picture is really not at all what people think of when they hear the word 'drawing'.
"Circe Invidosia" and "Elven Fairy Magic" are Prismacolor paintings done on # 500 13 x 16 inch Strathmore Bristol board.
In recent years digital has become a preferred media in the publishing industry for several reasons. First of all, there's the speed and the freedom from fear. The undo button is empowering and liberating. More importantly, publishing customers rarely can afford to pay for old-fashioned traditional methods like oil on canvas. Artists can still do them, and do them well, but no one but millionaire art collectors can afford to pay even poverty level hourly rates for all that time. The masters often took a year or more for a single painting. Speaking of hourly rates; pre-digital revisions were financially catastrophic, but now adding more space to the canvas does not require starting over, no wonder the starving artist became a stereotype! With digital media artists can create pieces that look very nice for very nice prices and with blazing speed . The publishing industry has never been noted for its patience. In the days before the digital revolution, mailing traditional media originals was scary at best, but now they can be scanned and shipped or even uploaded without risk in minutes.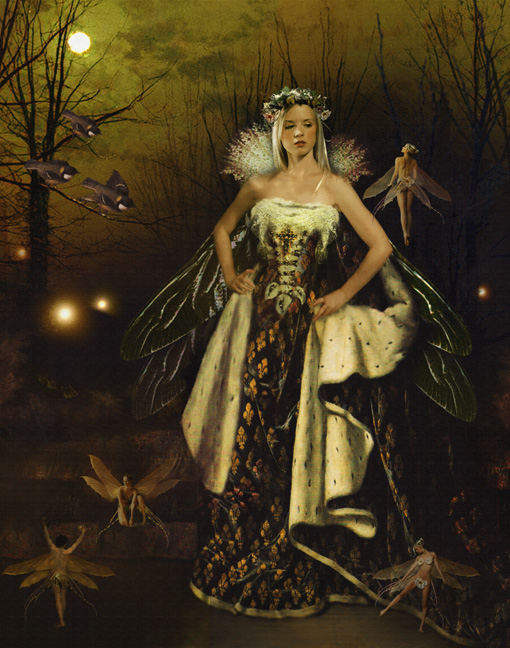 "Return with your shield or on it" MMX (left) and "Faerie Tales" MMVIII (right) are digital illustrations incorporating mixed media
With a background in traditional media including oils, pastels and colored pencils, Howard David Johnson embraces leading edge digital media in the creation of his depictions of fantasy, folklore, mythology, legend, religion, and heroic history. He works in and mixes a wide variety of media * Oil paintings * Acrylic Paintings * Prismacolor Paintings * Drawings * Chalk & Oil Pastel Paintings * Photography * and most recently Digital Artistry & Mixed Media *
Who is Artist and Illustrator Howard David Johnson?
In one of David's invitations to the Florence Biennale Contemporary Art Exhibition, (a partner in the United Nations' Dialog among Nations), UN Secretary General Kofi Anon wrote him: "Artists have a special role to play in the global struggle for peace. At their best, artists speak not only to people; they speak for them. Art is a weapon against ignorance and hatred and an agent of public awareness... Art opens new doors for learning, understanding, and peace among nations."
Howard David Johnson is a realistic visual artist & photographer with a background in the natural sciences & history. He works in a wide variety of mixed media ranging from oil paintings on canvas to digital media. After a lifetime of drawing and painting, His Traditional Realistic Art was exhibited in the British Museum in London in 1996, (3 years before he got his first computer) as well as numerous American ones since, such as the Metropolitan Museum of Art. His realistic paintings have made appearances in every major bookstore & game shop chain in America as well as magazines & educational texts around the world.

Some of his more prestigious clients include the National Geographic Society, the University of Texas, the University of Cambridge in England, Paramount Studios, Universal Studios, PBS TV, Enslow Educational Publishers, Adobe Photoshop, Auto FX, Doubleday, the History Book of the Month Club, & J Walter Thompson Advertising, just to name a few.

As a realistic illustrator he has not only used the computer to create new forms of realistic paintings, but has worked in the development and marketing of software for Adobe Photoshop. Digital art, Colored pencils, Pastels, Mixed media, and original Oil Paintings can also be commissioned for select projects.

Some originals are for sale as well.

Licenses to print his realistic paintings are available starting at only $99 USD.

A portrait of the artist in his painting studio as he is today in a photo taken by his youngest son Erich.

Snobbism in the arts is nothing new. Some people will tell you that oils are the only valid medium for realistic paintings. That Acrylics, Pastels, Watercolors, Colored Pencils, Digital, and other Media for Realistic Paintings and Drawings are not valid for "real" art. For more on this centuries old prejudice see the essay section below...

Thank You For Visiting Howard David Johnson's Gallery of Realistic Paintings...

All these realistic paintings, pictures, & text are copyrighted & were registered with the Library of Congress by the author, Howard David Johnson All rights reserved worldwide
This Art Gallery has been honored by more than 35,000,000 Unique Visitors
from the Four Corners of the Earth:
My Friends from around the world thus far :
England, Canada, Scotland, Wales, Ireland, Germany, France, Monaco, Andorra, Italy, The Vatican City State, Greece, Macedonia, Cyprus, Turkey, Belgium, Denmark, The Faroe Islands, Greenland, Yugoslavia, Macedonia, Croatia, The Czech Republic, Bosnia, Herzegovina, Slovakia, Slovenia, Luxembourg, Latvia, Estonia, Hungary, Bulgaria, Lithuania, Poland, Austria, Romania, Spain, The Russian Federation, Ukraine, Kazakhstan, Moldova, Malta, Iceland, Finland, Norway, Netherlands, Switzerland, Liechtenstein, Sweden, Portugal, Albania, Armenia, Georgia, Azerbaijan, Belarus, Kazakhstan, Gibraltar, Israel, Palestinian Territories, Egypt, Libya, Mali, Algeria, Niger, Saudi Arabia, Oman, The United Arab Emirates, Kuwait, Bahrain, Qatar, Yemen, Iraq, Iran, Jordan, Syria, Lebanon, Morocco, Ethiopia, Eritrea, Liberia, The Republic of Congo, Rwanda, Kenya, Angola, Ghana, The Ivory Coast, Zambia, Zimbabwe, Sudan, Nigeria, Namibia, Uganda, Kenya, Eritrea, Tanzania, Botswana, Malawi, Senegal, Djibouti, Cameroon, Chad, Gambia, Mozambique, Swaziland, Lesotho, South Africa, Seychelles, Viet Nam, Japan, South Korea, China, Hong Kong, Macau, Mongolia, Mauritius, Singapore, Thailand, Cambodia, Laos, Myanmar, Macau, Malaysia,

"The Resurrection of Christ" MMX Mixed Media

Taiwan, Nuie, New Zealand, Fiji, Cook Islands, New Caledonia, Vanuatu, American Samoa, Australia, Micronesia, Polynesia, Papua New Guinea, The Heard and McDonald Islands, The Philippines, Guam, Palau, Cocos Island, The Kingdom of Tonga, Malaysia, Brunei Darussalem, India, Pakistan, Afghanistan, Bhutan, Bangladesh, Sri Lanka, Chagos Islands, The Republic of Maldives, Turkmenistan, Kyrgyzstan, Uzbekistan, Tadjikistan, Nepal, Indonesia, Chile, Argentina, Uruguay, Paraguay, Brazil, Peru, Aruba, Venezuela, Bolivia, Suriname, Guyana, Aruba, The Dominican Republic, Guatemala, Costa Rica, Colombia, Trinidad and Tobago, Antigua and Barbuda, Barbados, The Virgin Islands, Saint Lucia, The Netherlands Antilles, Panama, Saint Vincent & Grenadines, Grenada, Ecuador, Belize, Nicaragua, El Salvador, Bermuda, Cuba, Jamaica, Dominica, Haiti, Puerto Rico, Cayman Islands, Anguilla, The Bahamas, Honduras, Mexico, Madagascar, Central African Republic, Gabon, San Marino, Saint Kitts & Nevis Anguilla, Azerbaidjan, Burkina Faso, Equatorial Guinea, Mauritania, Burundi,

and my home, The Great Free State of Idaho (USA)...

If your home is not listed here please e-mail and tell us where you're from...

info@howarddavidjohnson.com

We love hearing from you! Your business, letters & links are always welcome. E-mail for courteous service...

*****

Enter a world of Beauty and Imagination...

INDEX of GALLERIES ~ LINKS to LARGER ART

The Realistic and Fantastic Art Galleries of Contemporary American Illustrator Howard David Johnson

Click on these Fun Educational Realistic Art Gallery link icons for Two-fisted Tales of VALOR & Frontline Combat featuring Legendary Warriors of History, Knights and ladies of Arthurian Legend, Celtic, Nordic, Asian and Olympian gods & monsters, unicorns, dragons, fairies... and more!

Angel Art
King Arthur
Norse Mythology
Greek Mythology
Legends of History
Fantasy Art
Celtic Mythology
Great Religions
Mythic women
Fairy Paintings
Asian Mythology
Russian Mythology
Mermaid Art
History Part Two
History of Dragons
Pencil Portraits I
Studio Photography
Colored Pencils II
Realistic Paintings
Pre-Raphaelite Art
Legendary Women
Warrior Women
The Art of War
Mythic Creatures
About Realistic Art
Science Fiction Art
Beautiful Women
Art NuVeau
Fantasy Pin ups
Fairy Lore
Flower Fairies
Lost Atlantis
Lady of Shallot
Catholic Art
Art of the Bible
Symbolist Art
Surrealist Art
Commercial Art
Business Center
Style & Technique
Biographical
Paintings in Oils
ELVES
Digital Techniques
Art Link Exchange

ll these pieces of art and the text are legally copyrighted and were registered with the U.S. Library of Congress Office of Copyright by the author, Howard David Johnson All rights reserved worldwide. Permission for many academic or non-commercial uses is freely and legally available by simply contacting the author via e-mail or visiting www.howarddavidjohnson.com/permission.htm

Original oil paintings are for sale, e-mail for info... or visit these pages for details

info@howarddavidjohnson.com

Thank you for Visiting... We love hearing from you! Your business, letters, & links are always welcome.

*****

Keep scrolling down for Essays and articles on Realistic Art yesterday and today by the artist
ORIGINAL OIL PAINTINGS ON CANVAS ARE AVAILABLE FOR SALE:
Many of Johnson's Digital Mixed Media creations displayed in this site are available to be rendered in oil on canvas once like the 20x16 oil on canvas Faerie Guardians 2006 (above right). Each design will only be rendered in oil once at this size and can be delivered in as little as 90 days. Sadly, much of the subtlety, vibrance, lustre and impact of an original oil painting is lost when it is scanned and imported to digital media or even printed by a master printer. Nothing can compare to an original oil painting viewed in person in my opinion but the other painting media like digital (above left) look VERY good in print and have their charms and distinct advantages as well.
You can e-mail for more details about availability at: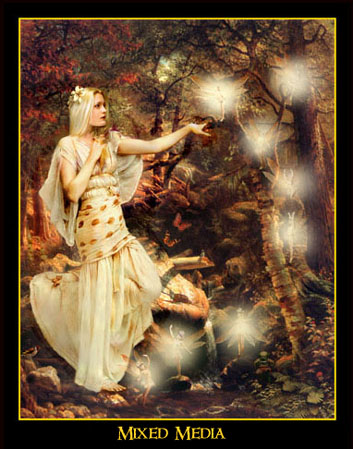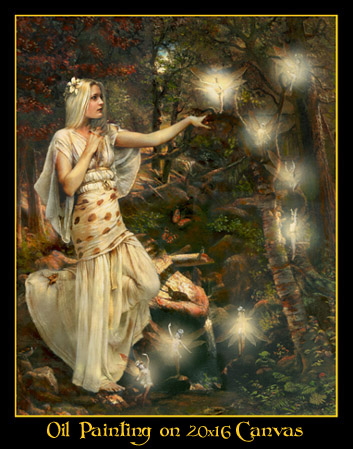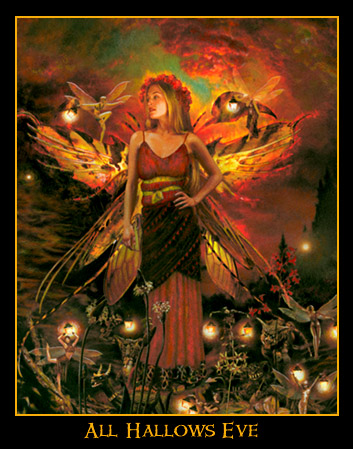 Almost all of Johnson's Mixed Media creations (above left) are available to be rendered in oil on canvas once like the 20x16 oil on canvas Faerie Guardians (above right). Each design will only be rendered in oil once at this size and can be delivered in as little as 90 days. Sadly, much of the subtlety, vibrance, lustre and impact of an original oil painting is lost when it is scanned and imported to digital media or even printed by a master printer. Nothing can compare to an original oil painting viewed in person in my opinion but the other painting media definitely look good in print and have their charms and distinct advantages. People have written asking me to tell them how to tell mixed media from prismacolors or oil. The very fact it is so hard to tell is my point! This new media looks very presentable and costs far less! ALL HALLOWS EVE was begun as a digital montage This is your guide: above far right is the digital composition...The question is, are you willing to pay tens of thousands to be old fashioned if only an art expert can tell the difference?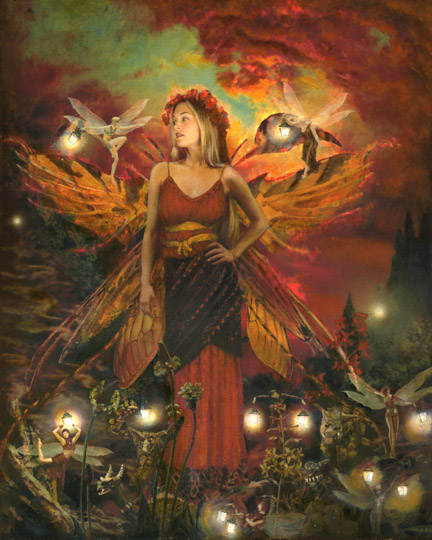 New for 2010! ALL HALLOWS EVE rendered in oil on 20x16 canvas (right) features the lovely Ann Bratton as Titania in this illustration from Shakespeare's Midsummer Night's Dream. Even when displayed at the same size the oil on canvas is clearly a superior illustration to the 2006 Prismacolor Painting on paper. (left). Considering many oil painters charge $60,000.00 USD and up it seems my $2,000.00 USD and up prices are very low...
Original oil paintings are for sale, all new designs or based on existing digital comps- e-mail for info.
Thank you for Visiting... Your business, letters, & links are always welcome.
*****
LIMITED EDITION

[of a maximum 1,000 prints per image]

PRINT-ON-DEMAND

Each inspected, hand signed and numbered by the artist!

Gorgeous Quality Printing!

For a LIMITED time and a LIMITED print run most of the illustrations in Johnson's vast portfolio are now available!

Free Shipping and Handling on all orders!

A numbered certificate of authenticity is included.

CHECK OUT WITH

thejohnsongalleries@gmail.com

Sized to fit standard frames!

20x16 inches [508x406mm] & 14x11 inches [356x280 mm]

Poster Size Art Prints!

The Johnson Galleries now prints these "in-house" with our new state of the art Epson 7890 oversize printer on Epson 200 year premium photo paper and canvas with Epson inks!
Art and Technology: From the Camera to the Computer
A brief overview of the shifting cultural attitudes toward Realistic Art in the last 150 years
~Essay #8 by Howard David Johnson
The first decade of the 21st Century has seen a grass-roots counter-revolution in the art world which has overthrown the stranglehold elitist proponents of Abstract expressionism gained on academia, the media and the art world at large in the early 20th Century.
Realistic Art was declared obsolete and irrelevant at the beginning of the 20th Century due to the easy chronicling of persons, places, and events by the Camera - in spite of this new technology empowering the greatest era in Realistic Art history. The "Modern Day Artist" refused to die and began to explore realms of the heart and mind the camera could not record. The proponents of Abstract Expressionism gained control of elite art collector's markets followed by academic institutions and the media leading to the abandonment of centuries of classical teaching methods and traditions in our universities. Even the best realistic art was later denounced and ridiculed as the dismissive and often even hostile Art establishment created elitist scorn for Realistic Art in general. This created a disconnect with the general population who could not relate to the tenets of Abstract Expressionism. The advent of the internet broke the absolute domination of the opinions of the Abstract School on media and academia and opened the floodgates of artistic expression and free opinions. Free at last from institutionalized condemnation, more and more artists began to choose realistic treatments and a tidal wave of fabulous new realistic art has been created in every conceivable visual art media for museums, galleries, books, movies, and video games.
As the camera became commercially available in the early 19th Century it became clear that the visual artist was no longer an indispensable member of society. Just about anyone could point and shoot this device at persons, places, and things and get very fast and very realistic results. Resentment from thousands of years of artists' social and political influence fueled the notion that visual artists should be declared obsolete. The adoption of the camera as an artist's tool and the advent of an era of glorious and unprecedented realism in painting did not stop the movement to crush the political and social influence of the artist.
Great realistic artists like Pablo Picasso and others like Vincent Van Gogh courageously answered this challenge by exploring concepts that could not be photographed with brilliant and visionary works. It was from these honest and ingenious notions that the schools and sub-schools of Abstract Art developed. The freshness and innovation of this movement took the art world and academia by storm. The excitement of defining the tenets and the delight of bewildering the masses gave rise to an elite class of critics who could control the lucrative art collector's market with obfuscation and intellectual snobbery.
This wealthy art collector's market gave credence to Abstract Expressionism's "high art" status and the advice of well placed critics became extremely valuable and they formed an alliance with like-minded academics. As time passed, this trendy movement whose concepts were so hard to argue with gained control of the establishment and elitism took root. It was not long before traditional painting methods were not taught in universities any more as realistic art was no longer considered "Real Art" and tenets like; "Art must be ugly", Art must be new" Art must be obscure", and "The best Art is offensive" took hold in schools and printed media.
Not satisfied with control over the most lucrative galleries, collector's markets and academia, these elitists moved from dismissive to openly hostile attitudes toward those who still loved and created realistic art. The merciless and unprovoked rebukes of great realistic artists like Norman Rockwell, N.C. Wyeth and so many others are well documented in 20th century histories. That's not "Real Art" and why do you waste your talent on "Mere Illustration" were some of the nicer comments. Illustrators in the 20th century wore these rebukes like badges of honor, like black eyes gained from standing up to schoolyard bullies, knowing in their hearts what they were doing was worthwhile and the narrow minded views of their critics were not the only valid opinions. By the end of the 20th century, the long apprenticeship tradition was broken and classical realistic art methods were lost forever. The Shock Art movement in the 1990's carried the tenets to new extremes as "ART" became a dirty word. U.S. Government Endowments for the Arts were discontinued. Abstract Art had become the norm with its obfuscated themes and was then itself considered irrelevant and academically worthless. Art programs were then removed from countless public school curriculums to make time for standardized test preparation. There is no way that mandating more math, requiring more reading, or scheduling more science will replace what we have lost as a culture.
At the turn of the 21st Century the Abstract Expressionists had been in control for generations with a thought control blockade in books, newspapers, radio, television and schools. Anyone who disagreed with them was told they were too stupid to understand "Real Art" and theirs was the only voice to be heard. What had begun so beautifully and sincerely was hijacked and violated until it became a byword for vulgarity. Then came the internet and the realistic artists, long silenced began to express their views. It was like the boy who cried: "The Emperor has no clothes!" This revelation spread like wildfire through the cultural consciousness. Suddenly, it was no longer a disgrace to hold something other than those narrow views. Galleries on the internet showcased generations of repressed artists realistic works in a tidal wave art history calls: "the Realistic Revolt". Of course, Abstract Art still flourishes today especially on college campuses, but the narrow views of its most fanatical proponents are no longer cruelly dominant.
The Realistic Revolt has brought the return of respectability to illustration and realistic landscape and portraiture. When I see the works of today's vast multitude of realistic artists coming from a thousand different directions at once, tears come to my eyes, for I have worn the title "illustrator" as a badge of honor for decades and am deeply moved to have lived to see new developments in art and technology drive the visual arts to levels of quality beyond my wildest dreams. I predict 3D and digital media will grow more and more realistic until photos seem noticeably inferior. The internet has not only opened the floodgates for artistic expression, but employment and untold artists are earning a living shattering the "Starving Artist" stereotype so engrained in our cultural consciousness. The beginning of the 20th century saw technology threatening the survival of the professional artist and the end of it saw the unbridled tenets of Abstract Expressionism like "Art must be offensive" threatening the very existence of art as a part of our culture, the modern day artist has once again refused to die and has embraced technology to create a rebirth of realism that Art critics, collectors, academics and everyday folk can all embrace and celebrate in ways I once feared had been lost to us forever.
~ Howard David Johnson (2012)
ON REALISTIC ART:

Personal Opinion Essays on Realistic Art yesterday and today.

"Did you know the Greek word "Photography" means "Painting with Light"? Today with the advent of computers it truly lives up to it's name. Due to developments in Art and Technology combined with a general lack of public education, I contend that a more complete definition of the word "painting" is needed than that which is found in common usage."

~ H D Johnson

"Painting, in art, the action of laying colour on a surface, or the representation of objects by this means. Considered one of the fine arts" ~Encyclopaedia Britannica.

"Painting. noun. 1.) The act or employment of laying on colors or paints. 2.) The art of forming figures or objects in colors on canvas or any other surface, or the art of representing to the eye by means of figures and colors any object; the work of an illustrator or painter. 3.) A picture; a likeness or resemblance in shape or colors. 4.) Colors laid on. 5.) Delineation that raises a vivid image in the mind; as in word painting.

~ Webster's Unabridged Dictionary of the English Language

M M X Exhibition: Influence of and Homage to the Masters

Over the last 300 years, ideas about female beauty have drastically changed and this has caused many of the most wonderful paintings of the old masters to seem 'ugly' to youthful modern audiences. In the days of Peter Paul Rubens, being forty to sixty pounds over-weight was considered not only attractive, but was a status symbol. Beauty is in the eye of the beholder and tastes have clearly changed.

These new realistic paintings of mine take their inspiration in part from the realistic paintings of the old masters just as The Lord of the Rings comes from The Ring of the Nibelung and European folklore, West Side Story came from Romeo and Juliet, which was in turn inspired by Antony and Cleopatra.

Our shared cultural heritage, great works of art, literature, music and drama, cinema, folk tales and fairy tales are all drawn upon again and again by the creators of new works. These works in the public domain are both a catalyst and a wellspring for creativity and innovation. Even though all my Realistic Paintings are legally new works and protected under copyright law their inspiration sometimes comes in part from works in the public domain. The public domain is a space where intellectual property protection ( copyright ) does not apply.

When copyrights and patents expire, innovations and creative works fall into the public domain. They may then be used by anyone without permission and without the payment of a licensing fee. My sources have been transformed so much in the creation of these new works of art that they would not violate an existing copyright even if they were so protected. Publicly owned national parks are also considered by many to be public domain lands. Because of the recent extensions of the terms of both copyrights and patents, and the privatization of lands and other resources owned by the Federal Government, little is now entering the public domain. Look for new litigation and another time extension when Disney Corporation's Mickey Mouse copyright is due to expire in 2023.

Since the public domain is a treasure trove of information and resources to be used by future generations, many advocates are deeply concerned that its stagnation will make it more and more difficult for future generations to find creative inspiration. Where would Walt Disney be without the Brothers Grimm, Hans Christian Anderson, Victor Hugo and so many others? Where would Aaron Copeland have been without American folk music? Thomas Nast's Santa Claus without traditional images of Father Christmas? Picasso without African art?

These are artists who made names for themselves and even fortunes through Public Domain appropriation, one and all. Beethoven did "variations on a theme" with the works of Mozart for the same reasons I have done mine with Waterhouse and others- to learn and give homage to the artists who most inspired me.

Art tradition and etiquette suggest the most influential should be mentioned at exhibits; these original new pieces shown in this exhibit take their inspiration in part from the paintings of Waterhouse, Alma-Tadema, Church, Moreau, Bouguereau, Leighton, Ingres, Moore, Parrish, Rackham and others. Most of my sources are changed so much they are impossible to detect, but sometimes I make it obvious to pay homage.

None of my works has ever so closely resembled its inspirational paintings so much as "Helen of Troy" (below): a deliberately obvious tribute to my most beloved master- John William Waterhouse; and is patterned after his "Miriamne leaving the judgment seat of Herod" I chose this one for my tribute because it is so often overlooked. The interior chamber with it's domed ceiling, King Herod on his throne, the eight man judiciary council of the San Hedrin, the chains and handcuffs, the tablets of the law and many other details are missing and in their places many new things are added.

In Helen of Troy, new elements include my own model, her jewelry, crown and gown ornaments, The perspective is completely different with the view of the sea going off into the distance, the bas relief carvings, the ivy urn, the sphinx head, the flowers, the new floor, the new dress, and the polished marble columns. When all is said and done, only the stairs and the lion's lower body have not been changed beyond all recognition. My Helen of Troy: the face that launched a thousand ships; shows instead her seeing the approaching sea lights of her husband Spartan King Menelaus' amphibious invasion fleet. ( From Homer's The Iliad ) As a student of fine art, copying is a great way to learn and create fine art, but as a professional illustrator copyright laws make things very different...My art is divided into two groups; personal work partially copying the old masters and professional illustration applying these lessons to create totally original works. I start more often with a specific written request. This is the exact OPPOSITE approach to creating a realistic painting copying something that's there. Research comes first.

In the case of the Greek Heroes, ( left ) there were no realistic paintings in the public domain to copy accurate Greek armour and weapons in combat poses from. Mostly I found realistic paintings of effeminate men, wearing nothing but a robe over the shoulder and the wrong helmets. Finding history books at the library with the accurate helmets, shield designs, weapons, and armour was essential to get an accurate depiction of a Greek Hoplite.

All the library had were stiff museum poses of anything. I hit the research jackpot with some very simplistic flat line drawings of great authentic Greek shield designs. All the elements must be found, gathered and assembled to create the realistic painting the client wanted. Next comes the layout. This is where the mathematics and geometric design enter the creative process.

My wife Virginia took a picture of me nearly twenty years ago on a carpentry project with the heroic Jack Kirby -esque pose I was looking for mixed with the texture and feel of a realistic Frank Frazetta or Norman Rockwell painting. Naturally, in these cases I go to great lengths to make sure that my work looks nothing whatsoever like it's various inspirations and sources except in spirit. Of course, the characteristic old master's painting feel to the background most of my realistic paintings had was requested, and the picture was to have the drama of a Howard Pyle painting. The final result resembles no painting ever done.

When asked why I usually work from photos I like to re-tell Norman Rockwell's story about having to paint a chicken: He set it up on a stump in a barn and goes to painting. The chicken moves it's head. He moves it back. The chicken jumps down. He puts it back. He goes to paint. now the chicken decides to make a break for it... he chases it down clucking and screaming and puts it back. Now it knows he's going to have it for dinner and it goes completely berserk. The next day, he came in and set the chicken back, snapped it's picture, and the photo held nice and still."

~ Howard David Johnson