BELATED PRE-RAPHAELITE ART; Images of Beautiful Women in the spirit of and heavily influenced by the Pre- Raphaelite Brotherhood: An exhibition by Contemporary American Illustrator Howard David Johnson, whose illustrations have been exhibited in the British Museum and published all over the world by distinguished learning institutions and publishers including the Universities of Oxford and Cambridge. With a background in traditional media including oils, pastels and colored pencils, Johnson embraces leading edge digital media in the creation of his depictions of fantasy, folklore, mythology, legend, religion, and heroic history.
21st Century Pre-Raphaelite Art Exhibition; Homage to the Masters...
Since the times of the ancient Greeks, Art History records a relentless quest for Realism and artistic excellence in realistic paintings and sculpture. The masters of each generation strove to perfect their craft, then passed on the torch of their accumulated knowledge and skill to the next generation of. The accomplishments and technological breakthroughs of one generation of realistic painters has often set new standards of excellence for the next.
"Zenobia, Queen of Palmyra", "Daniel the Prophet in the Lion's Den" and "The Maiden in the Tower"
"Zenobia, Queen of Palmyra" is my salute to the great Dante Gabriel Rossetti and Jane Morris, his most beloved model... I searched high and low for a model with wavy hair like hers and "Young Rapunzel" or "The Maiden in the Tower" is a nod to the preponderance of detail in the Original preraphalites' works and "Daniel in the Lion's Den" is also in keeping with the Pre-Raphaelite Tradition to do historical and religious subjects..."
Pre-Raphaelite n. An artist or writer belonging to or influenced by the Pre-Raphaelite Brotherhood, a society founded in 1848 by Dante Gabriel Rossetti and others to advance the style and spirit of Italian Painting before Raphael. adj. of , pertaining to, or having the characteristics of the Pre-Raphaelites. These English Romantic Artists reacted against the new industrial age with it's desecration of nature. The Pre- Raphaelites sought to return to a view of nature that had prevailed before the time of the Renaissance painter Raphael. They preferred to paint moral, religious, and historical subjects. Sentimentality, minute detail, and bright color characterize most of their works.

If you are not familiar with the original Pre-raphaelites or the subsequent generations of belated followers, you should probably go look at them first, before looking at a contemporary artist influenced by them. For a non-profit virtual art gallery displaying paintings from art movements of the 19th and early 20th centuries (for example, Symbolist, Pre-Raphaelite and Art Nouveau) visit www.artmagick.com.

This Gallery is for those of you who have seen all the originals and can't get enough and is lovingly dedicated to the original members of the Pre-Raphaelite Brotherhood.

"Return with your shield or ON it"

"The Angel Raphael" MMVIII

"Helen of Troy" MMV
"Return with your shield or on it" MMX (Not even a Spartan MOTHER could forgive cowardice) "The Archangel Raphael" is my tribute to the Pre-Raphaelite Art of Edward Burne-Jones and is also inspired by the great Gustaf Moreau, Symbolism: I'm sure professional art history and spirituality experts will notice the ghost images of the Sephiroth tree in this image right away."Helen of Troy" is my loving tribute to my favorite Pre-Raphaelite, John William Waterhouse and studies from his "Miriamne at the Judgement seat of Herod"
~Howard David Johnson
Enter a world of Beauty and Imagination...
his is my world. This is the world I love. It is a world without limits. My world is what I choose to make it. My world is yesterday, or today, or tomorrow.

My world is a world of dreams & realities. It is a world of Caesars & Christs... of monuments rising from dim memories of the past.

It is an angry sailing ship tossed about on a sea of adversity. It is a world of knights & ladies, of gods & monsters, of faerie princesses, femme fatales, & mythic creatures.

It is a world of beauty & virtue & nobility. It is a world with no boundaries save the limits of my imagination & my conscience.

This is my world. Conceived in my mind & placed upon canvas with brush & paint & study & sweat & tears & a great deal of love for my world.

My world is the world of the illustrator.

I created this world for you, & for your children, & for your children's, children's, children...

"The Lady of the Lake" MMXII from The Arthurian Legends

"Kissed by an Angel" (right) borrows from Lord Leighton and "The Angels of Forgiveness" MMX (left) is David's tribute to Arthur Hughes. Symbolism runs rampant in these new pieces of contemporary Pre-Raphaelite Art. Because of the use of photography even Johnson's all-oil paintings can be termed mixed media. Johnson's Pre-Raphaelite Art Books and Pre-Raphaelite Art posters are for sale following the exhibit...
and "Into the Lake of Fire" MMX. Of course these works are in keeping with the Pre-Raphaelite tradition to do religious and historical themes. This one is influenced by heavily by Delville, and borrows from Bougereau and Leighton. It is a Pre-Raphaelite style illustration from The Book of Revelation Ch. 20: "The Dragon that old serpent, that is the Devil, cast in the Lake of Fire"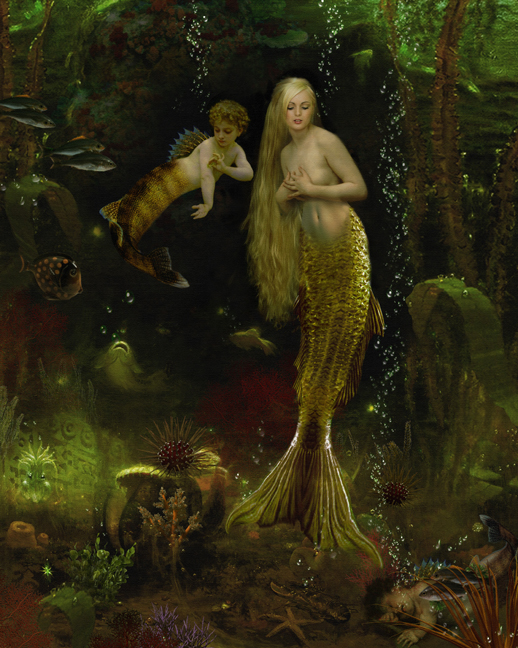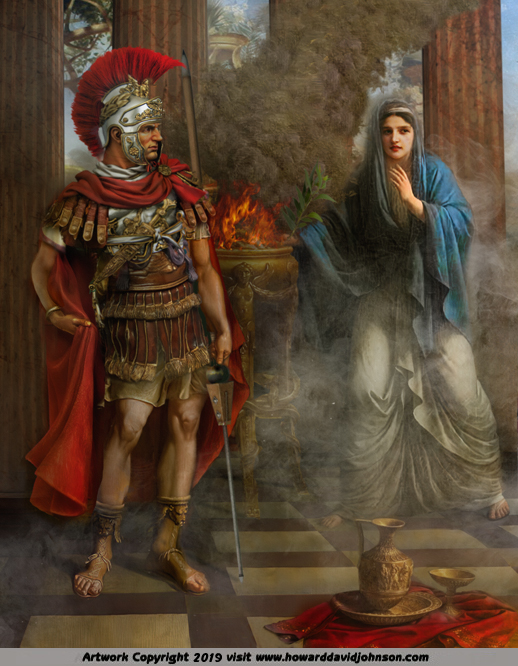 "Lilly Evans" MMXI Mixed Media including Oil on Canvas, 3D studio Max and Adobe Photoshop (Above) "Lilly" is the first illustration David has created that incorporates images created in 3D Studio Software. The possibilities that these computer programs combined with traditional media and techniques present to the art world staggers the imagination...
More 3D studio combined with traditional media and Adobe Photoshop in "Merbabies" (above left)
(below) "Athene, goddess of wisdom and Justice" MMIX was created in traditional oils on 20 X 16 canvas. Below: Atalanta and Artemis (2010) Mixed Media: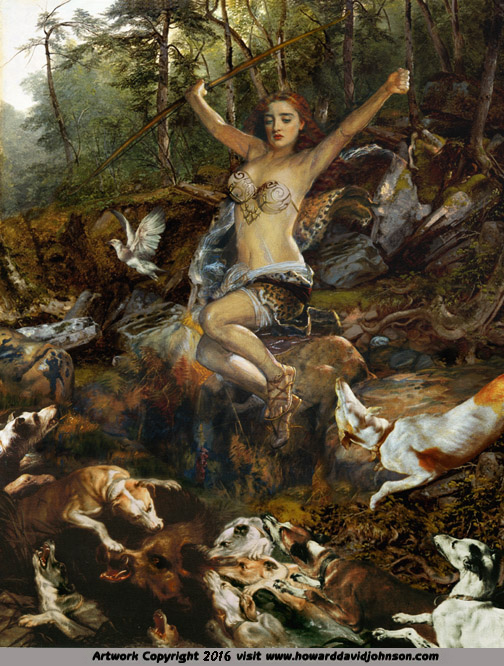 "The Lady of Shalott" (2010 Mixed Media) This painting by is inspired by the poem by Tennyson, the Pre-Raphaelite painting of the same name by John William Waterhouse and borrows from the Honorable John Collier.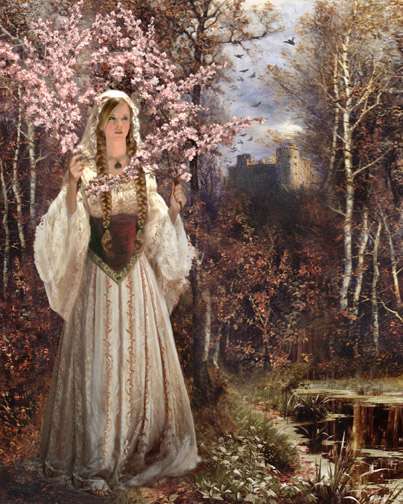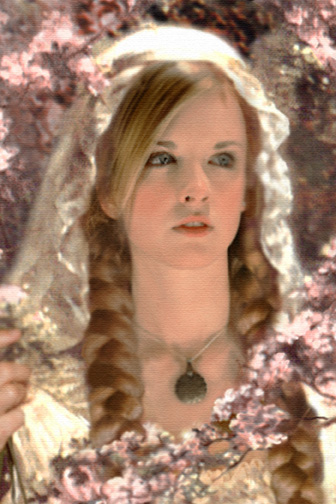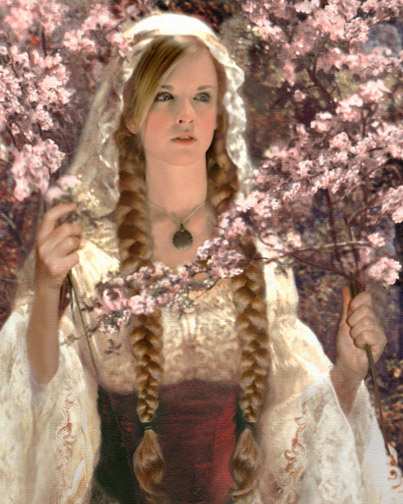 Down to towered Camelot; And by the moon the reaper weary,
Piling sheaves in uplands airy, Listening, whispers " 'Tis the fairy Lady of Shalott."
'The Lady Kriemhilde', 'The Fairy Circle' and 'The Messenger (above) were all rendered in Prismacolor Colored Pencils... 'Prismacolor Paintings' if you will - because this kind of picture is not at all what comes to mind when people hear the word 'drawing'. These relatively new soft oil based colored pencils are not the first Dry Painting Medium: the term 'Pastel Paintings' originated in the 17th century. Themes from Celtic and Greek Mythology are below...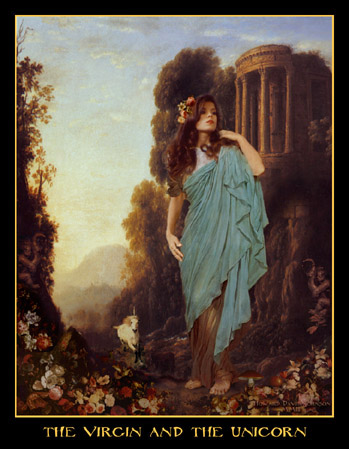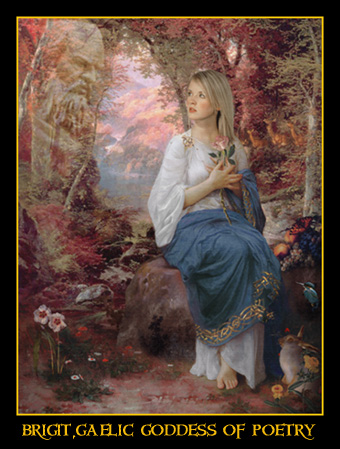 Did you know that many of the breathtaking works of Pre-Raphaelite Art done in oil on canvas and panel in the 1800's were declared not to be Art? Not just not fine art but not art at all. In London the Royal Academy had a very narrow view as to what qualified. No wonder Rossetti led a rebellion against them. The Rough treatment of many Pre-Raphaelite greats like the Honorable John Collier for what they termed "indecency" was unjust at best.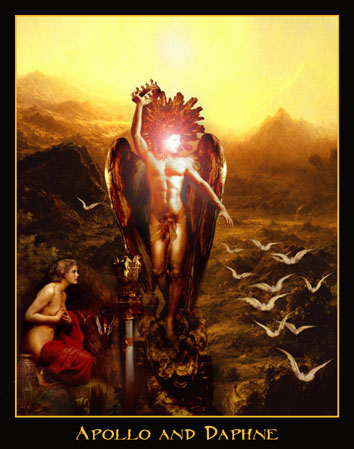 With a background in traditional media including oils, pastels & colored pencils, Howard David Johnson embraces leading edge digital media in the creation of his depictions of fantasy, folklore, mythology, legend, religion, and heroic history. He works in and mixes a wide variety of media * Oil paintings * Acrylic Paintings * Prismacolor Paintings * Drawings * Chalk & Oil Pastel Paintings * Photography * Digital Artistry & Mixed Media *
"ALL HALLOWS EVE" Rendered first in Digital, then Colored Pencils, and finally in oil paints on Canvas
COMMISSIONS AND SOME PIECES OF ORIGINAL ART ARE AVAILABLE:
Many pieces are currently available, mostly 11x14-13x16 inch Prismacolor Paintings (like Helen of Troy) and pencil portraits (like Arriba #2) followed in number by Acrylic, Prismacolor and pastel mixed media all on #400 Strathmore Bristol Board ranging from $700.00-$1400. 00 USD and Oil Paintings on canvas ranging from $1999.00 - 10,000.00 USD. Pieces that have never been rendered in oil can be commissioned in 16x20 inch size on canvas for 50% down and delivered in under 90 days with signed certificates of authenticity aka legal documents pledging never to render it in that size and media again to ensure premium collectability and investment potential.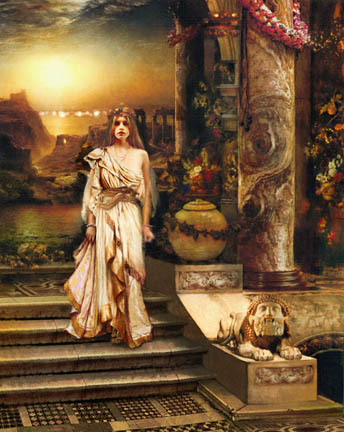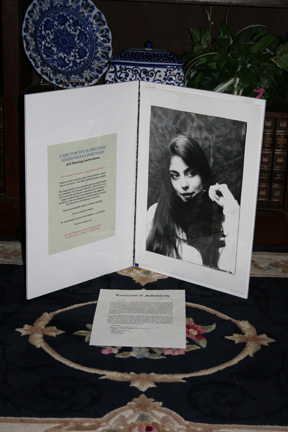 David can also do a completely new picture designed in digital media (for more on this visit his digital media page) and when we approve the photo-montage, he uses it as reference to render it in oil on canvas. No surprises. Existing Artwork is shipped very well protected and go out to you immediately via Fed Ex or USPS Express mail upon receipt of payment at our expense. All new creations cost a bit more depending on what is involved. All new creations and rendering photo montages into art on paper are a LOT of fun with e-mail attachments and digital cameras.
ORIGINAL DRAWINGS & OIL PAINTINGS ON CANVAS ARE AVAILABLE: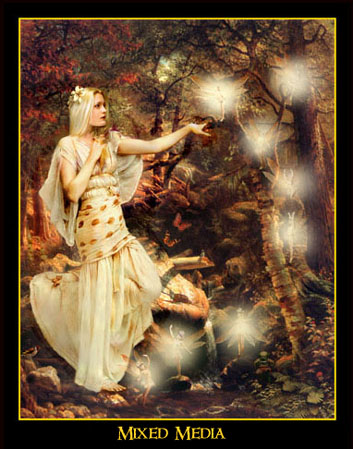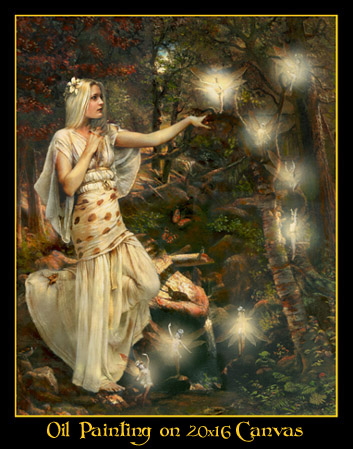 Almost all of Johnson's Mixed Media creations (above left) displayed in this site are available to be rendered in oil on canvas like the 20x16 oil on canvas Faerie Guardians 2006 (above right). Each design will only be rendered in oil once at this size and can be delivered in as little as 90 days. Sadly, much of the subtlety, vibrance, lustre and impact of an original oil painting is lost when it is scanned and imported to digital media or even printed by a master printer. Nothing can compare to an original oil painting viewed in person in my opinion but the other painting media definitely look good in print and have their charms and distinct advantages as well.
e-mail for more details at
2005 version 2014 version
For more art, more galleries, information about the artist & essays by the artist keep scrolling down...
"Although I love Rossetti and all the other Pre- Raphaelite artists dearly, none of the Pre- Raphaelite Brotherhood has influenced me more visibly than John William Waterhouse. Helen of Troy is my loving tribute to him, his vision, and his magnificent and deeply inspirational works. ( My life and artistic vision are patterned after and inspired by Dante Gabriel Rossetti, but the actual appearance of my works are more patterned after those of J W Waterhouse.)
Who is American Illustrator Howard David Johnson?
In one of David's invitations to the Florence Biennale Contemporary Art Exhibition, (a partner in the United Nations' Dialog among Nations), UN Secretary General Kofi Anon wrote him: "Artists have a special role to play in the global struggle for peace. At their best, artists speak not only to people; they speak for them. Art is a weapon against ignorance and hatred and an agent of public awareness... Art opens new doors for learning, understanding, and peace among nations."



Howard David Johnson is a contemporary realistic artist and photographer with a background in the natural sciences and history. David works in a wide variety of mixed media ranging from oil on canvas to digital media. David's realistic illustrations have made appearances in every major bookstore and game shop chain in America as well as magazines and educational texts around the world.

Some of David's more prestigious clients have included the University of Texas, the Universities of Oxford and Cambridge in England, The Australian Mint, The National Geographic Society, Paramount Studios, Universal Studios, MGM Studios, Warner Brothers Home Video, ABC/Disney, CBS TV, PBS TV, The History Channel, Enslow Educational Publishers, Adobe Photoshop, Auto FX, Tree-Free Greeting, Verizon wireless, Apple IPOD, Penguin, Doubleday (Now Random House), Harlequin Top Historical Romances, and the History Book of the Month Club, as well as appearing in periodical publications like Popular Photography and the Wall Street Journal.

A Traditional style portrait of the artist. [Photo by his son Erich.]

After a lifetime of drawing and painting, David's Traditional Art was exhibited in the British Museum in London in 1996, ( 3 years before he got his first computer ) as well as numerous American ones since, such as the Metropolitan Museum of Art.

Working in a variety of media David offers his customers a variety of options and more than three decades of experience. As an illustrator he has not only used the computer but has been involved in the development and marketing of software for Adobe Photoshop. Digital art, Colored pencils, Pastels, Mixed media, & also Oil Paintings can also be commissioned for select projects.Digital illustration projects start at $500.U.S. and group rates are available. David delivers custom made copyright free illustrations & old fashioned customer service when he does work-for-hire. To publish existing pieces of his realistic art, David sells licenses starting at only $99.USD.




Business and Retail Services:

You can e-mail for more details at:

Your business, letters and links are always welcome!
This Art Gallery has been honored by more than 35,000,000 Unique Visitors
from the Four Corners of the Earth:
My Friends from around the world thus far :
England, Canada, Scotland, Wales, Ireland, Germany, France, Monaco, Andorra, Italy, The Vatican City State, Greece, Macedonia, Cyprus, Turkey, Belgium, Denmark, The Faroe Islands, Greenland, Yugoslavia, Macedonia, Croatia, The Czech Republic, Bosnia, Herzegovina, Slovakia, Slovenia, Luxembourg, Latvia, Estonia, Hungary, Bulgaria, Lithuania, Poland, Austria, Romania, Spain, The Russian Federation, Ukraine, Kazakhstan, Moldova, Malta, Iceland, Finland, Norway, Netherlands, Switzerland, Liechtenstein, Sweden, Portugal, Albania, Armenia, Georgia, Azerbaijan, Belarus, Kazakhstan, Gibraltar, Israel, Palestinian Territories, Egypt, Libya, Mali, Algeria, Niger, Saudi Arabia, Oman, The United Arab Emirates, Kuwait, Bahrain, Qatar, Yemen, Iraq, Iran, Jordan, Syria, Lebanon, Morocco, Ethiopia, Eritrea, Liberia, The Republic of Congo, Rwanda, Kenya, Angola, Ghana, The Ivory Coast, Zambia, Zimbabwe, Sudan, Nigeria, Namibia, Uganda, Kenya, Eritrea, Tanzania, Botswana, Malawi, Senegal, Djibouti, Cameroon, Chad, Gambia, Mozambique, Swaziland, Lesotho, South Africa, Viet Nam, Japan, South Korea, China, Hong Kong, Macau, Mongolia, Mauritius, Singapore, Thailand, Cambodia, Laos,

Myanmar, Macau, Malaysia, Taiwan, Nuie, New Zealand, Fiji, Cook Islands, New Caledonia, Vanuatu, American Samoa, Australia, Micronesia, Polynesia, Papua New Guinea, The Heard and McDonald Islands,

The Philippines, Guam, Palau, Cocos Island,

The Kingdom of Tonga, Malaysia, Brunei Darussalem, India, Pakistan, Afghanistan, Bhutan, Bangladesh, Sri Lanka, Chagos Islands, The Republic of Maldives, Turkmenistan, Kyrgyzstan, Uzbekistan, Nepal, Indonesia, Chile, Argentina, Uruguay, Paraguay, Brazil, Peru, Aruba, Venezuela, Bolivia, Suriname, Guyana, Aruba, The Dominican Republic, Guatemala, Costa Rica, Colombia, Trinidad and Tobago, Antigua and Barbuda, Barbados, The Virgin Islands, The Netherlands Antilles, Panama, Saint Vincent & Grenadines, Grenada, Ecuador, Belize, Nicaragua, El Salvador, Bermuda, Cuba, Jamaica, Dominica, Haiti, Puerto Rico, Cayman Islands, Anguilla, The Bahamas, Honduras, Mexico, and my home, The Great Free State of Idaho...
If your home is not listed here please e-mail us and tell us where you're from...
Thank you for Visiting

the Pre- Raphaelite Exhibition of Howard David Johnson..
Your business, letters, & links are always welcome.
info@howarddavidjohnson.com
Enter a world of Beauty and Imagination...

INDEX of GALLERIES ~ LINKS to LARGER ART
The Realistic and Fantastic Art Galleries of Contemporary American Illustrator Howard David Johnson
Click on these Fun Educational Realistic Art Gallery link icons for Two-fisted Tales of VALOR & Frontline Combat featuring Legendary Warriors of History, Knights and ladies of Arthurian Legend, Celtic, Nordic, Asian and Olympian gods & monsters, unicorns, dragons, fairies... and more!
All these pieces of art and the text are legally copyrighted and were registered with the U.S. Library of Congress Office of Copyright by the author, Howard David Johnson All rights reserved worldwide. Permission for many academic or non-commercial uses is freely and legally available by simply contacting the author via e-mail or visiting www.howarddavidjohnson.com/permission.htm