Enter a world of Beauty and Imagination...

INDEX of GALLERIES ~ LINKS to LARGER ART
The Realistic and Fantastic Art Galleries of Contemporary American Illustrator Howard David Johnson
Click on these Fun Educational Realistic Art Gallery link icons for Two-fisted Tales of VALOR & Frontline Combat featuring Legendary Warriors of History, Knights and ladies of Arthurian Legend, Celtic, Nordic, Asian and Olympian gods & monsters, unicorns, dragons, fairies... and more!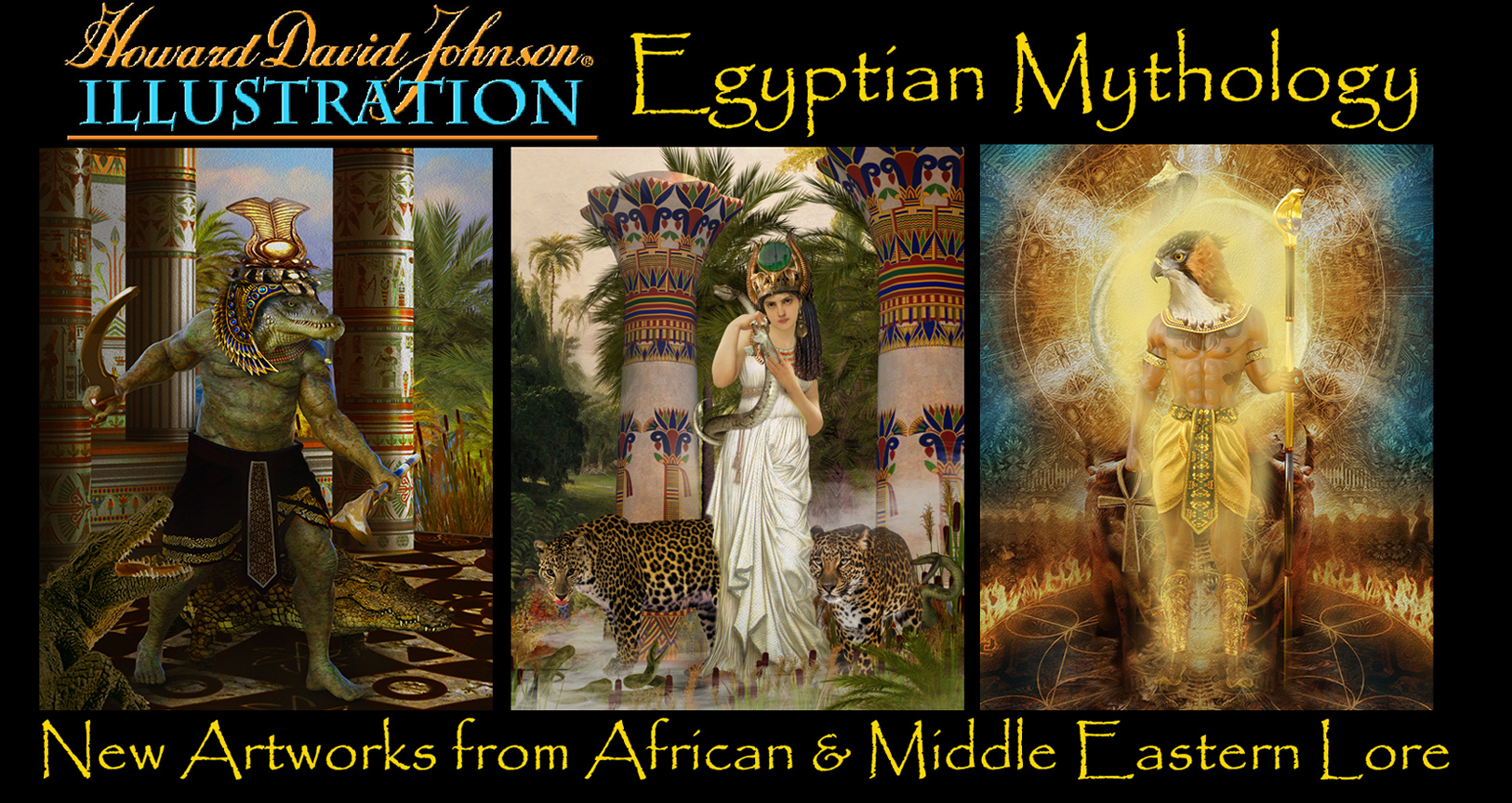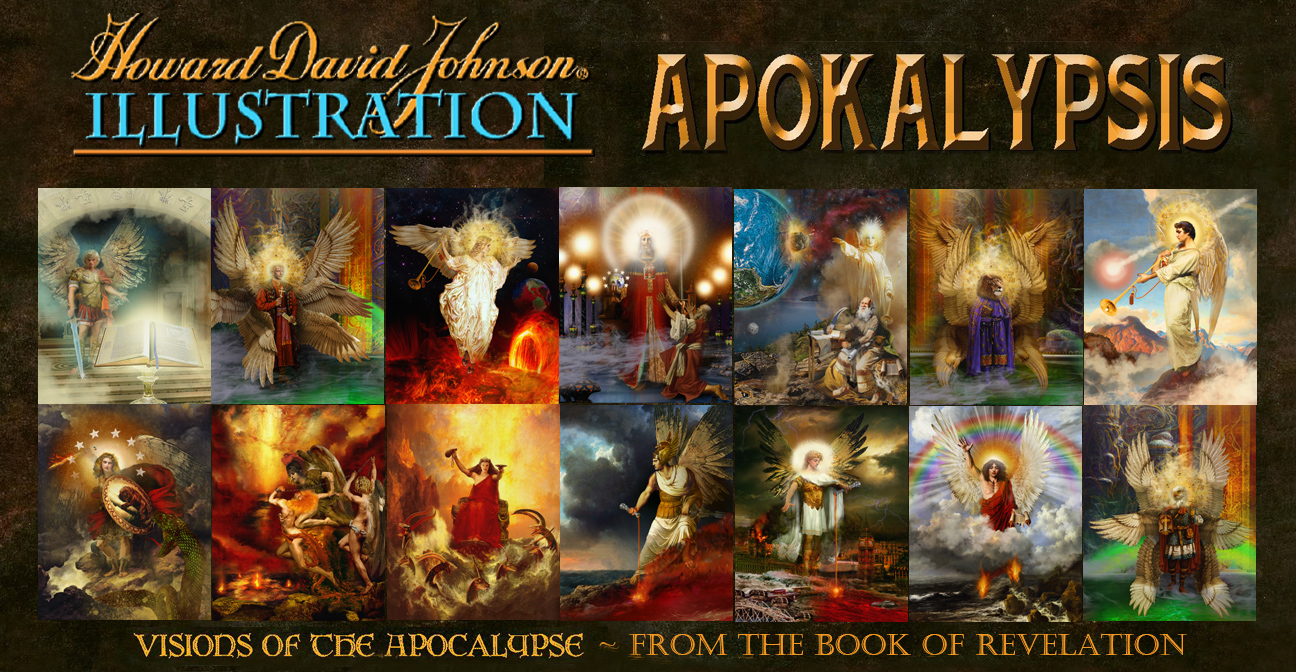 All these pieces of art and the text are legally copyrighted and were registered with the U.S. Library of Congress Office of Copyright by the author, Howard David Johnson All rights reserved worldwide. Permission for many academic or non-commercial uses is freely and legally available by simply contacting the author via e-mail or visiting www.howarddavidjohnson.com/permission.htm
Celebrating 20- plus Years on the World Wide Web 1996- Today!
With a background in traditional media including oils, pastels & colored pencils, Howard David Johnson embraces leading edge digital media in the creation of his depictions of fantasy, folklore, mythology, legend, religion, and heroic history. He works in a wide variety of media * Oil paintings * Acrylic Paintings * Prismacolor Paintings * Drawings * Chalk & Oil Pastel Paintings * Photography * 2D &3D Digital Artistry & Mixed Media *
Business and Retail Services:
Who is American Illustrator Howard David Johnson?
In one of David's invitations to the Florence Biennale Contemporary Art Exhibition, (a partner in the United Nations' Dialog among Nations), UN Secretary General Kofi Anon wrote him: "Artists have a special role to play in the global struggle for peace. At their best, artists speak not only to people; they speak for them. Art is a weapon against ignorance and hatred and an agent of public awareness... Art opens new doors for learning, understanding, and peace among nations."
Howard David Johnson is a contemporary realistic artist and photographer with a background in the natural sciences and history. David works in a wide variety of mixed media ranging from oil on canvas to digital media. David's realistic illustrations have made appearances in every major bookstore and game shop chain in America as well as magazines and educational texts around the world.

Some of David's more prestigious clients have included the University of Texas, the Universities of Oxford and Cambridge in England, The Australian Mint, The National Geographic Society, Paramount Studios, Universal Studios, MGM Studios, Warner Brothers Home Video, ABC/Disney, CBS TV, PBS TV, The History Channel, Enslow Educational Publishers, Adobe Photoshop, Auto FX, Tree-Free Greeting, Verizon wireless, Apple IPOD, Penguin, Doubleday (Now Random House), Harlequin Top Historical Romances, and the History Book of the Month Club, as well as appearing in periodical publications like Popular Photography and the Wall Street Journal.

A Traditional style portrait of the artist. [Photo by his son Erich.]

After a lifetime of drawing and painting, David's Traditional Art was exhibited in the British Museum in London in 1996, ( 3 years before he got his first computer ) as well as numerous American ones since, such as the Metropolitan Museum of Art.

Working in a variety of media David offers his customers a variety of options and more than three decades of experience. As an illustrator he has not only used the computer but has been involved in the development and marketing of software for Adobe Photoshop. Digital art, Colored pencils, Pastels, Mixed media, & also Oil Paintings can also be commissioned for select projects.Digital illustration projects start at $500.U.S. and group rates are available. David delivers custom made copyright free illustrations & old fashioned customer service when he does work-for-hire. To publish existing pieces of his realistic art, David sells licenses starting at only $99.USD.

You can e-mail for more details at:

Your business, letters and links are always welcome!
This Gallery has been honored by more than 35,000,000 Unique Visitors
from the Four Corners of the Earth
My Friends from around the world thus far :
England, Canada, Scotland, Wales,   Ireland,   Germany, France, Monaco, Andorra, Italy, The Vatican City State, Greece,  Macedonia, Cyprus,  Turkey, Belgium, Denmark, The Faroe Islands, Greenland, Yugoslavia, Macedonia, Croatia, The Czech Republic, Bosnia, Herzegovina, Slovakia, Slovenia, Luxembourg, Latvia, Estonia, Hungary, Bulgaria, Lithuania, Poland, Austria, Romania, Spain, The Russian Federation, Estonia, Ukraine, Kazakhstan, Moldova, Malta, Iceland, Finland, Norway, Netherlands, Switzerland, Liechtenstein, Sweden, Portugal, Albania, Armenia, Georgia, Slovak Republic, Azerbaijan, Belarus, Kazakhstan, Gibraltar, Israel, Palestinian Territories, Egypt, Libya, Mali, Algeria, Niger, Saudi Arabia,
Oman, The United Arab Emirates, Kuwait, Bahrain, Qatar, Yemen, Iraq, Iran, Jordan, Syria, Lebanon, Morocco, Ethiopia, Eritrea, Liberia, The Republic of Congo, Rwanda, Kenya, Angola, Ghana, The Ivory Coast, Zambia, Zimbabwe, Sudan, Nigeria, Namibia, Sudan, Uganda, Kenya, Eritrea, Tanzania, Botswana, Malawi, Senegal, Djibouti, Cameroon, Chad, Gambia, Mozambique, Swaziland, Lesotho, South Africa, Seychelles, Viet Nam, Japan, South Korea, China, Hong Kong, Macau, Mongolia, Mauritius, Singapore, Thailand, Cambodia, Laos,  Myanmar, Macau, Malaysia, Taiwan, Nuie, New Zealand, Fiji, Cook Islands, New Caledonia, Vanuatu, American Samoa, Australia, Micronesia, Polynesia, Papua New Guinea, The Heard and McDonald Islands, The Philippines, Guam, Palau, Cocos Island,  The Kingdom of Tonga, Malaysia, Brunei Darussalam, India, Pakistan,   Afghanistan, Bhutan, Bangladesh, Sri Lanka, Chagos Islands, The Republic of Maldives, Turkmenistan,  Kyrgyzstan, Uzbekistan, Tajikistan, Azerbaijan, Nepal, Indonesia, Chile, Argentina, Uruguay, Paraguay, Brazil, Peru, Aruba, Venezuela, Bolivia, Suriname, Guyana, Aruba, The Dominican Republic, Guatemala, Costa Rica, Colombia, Trinidad and Tobago, Antigua and Barbuda, Barbados, The Virgin Islands, Saint Lucia, The Netherlands Antilles, Panama, Northern Mariana Islands, Saint Vincent & Grenadines, Grenada, Ecuador, Belize,   Nicaragua, El Salvador, Bermuda, Cuba, Jamaica, Dominica, Haiti, Puerto Rico, Cayman Islands,  The Bahamas,   Honduras,   Mexico, Madagascar, Central African Republic, Ethiopia, Gabon, San Marino, Saint Kitts & Nevis Anguilla, Burkina Faso, Equatorial Guinea, Polynesia, Madagascar, Mauritania, Burundi, and my home, The Great Free State of Idaho (USA)...
If your home is not listed here please e-mail and tell us where you're from...
Your business, letters and links are always welcome!
Gorgeous Quality Printing

Hand Signed & Numbered

Free Shipping Worldwide

LIMITED EDITION

[of a maximum 1,000 prints per image]

PRINT-ON-DEMAND

Each inspected, hand signed and numbered by the artist!

CHECK OUT FAST WITH PAYPAL!

thejohnsongalleries@gmail.com

Sized to fit standard sized frames!

ASK ABOUT GIFT CERTIFICATES

The Johnson Galleries prints these "in-house" with our new state of the art Epson 7890 oversize printer on Epson 200 year premium photo paper and canvas with Epson inks!
Bonus Section:
Personal Opinion Essays on History and Art by the artist.
HOW DO WE SORT OUT HISTORY AND MYTHOLOGY?
A Legends of History essay by the artist
As a professional Illustrator I am called upon to illustrate Legends of History and Mythology, Fact and Fantasy, the Sacred and the Profane. In as much as I have endeavored to sort them out accordingly, it has become one of the more fascinating challenges I have ever faced. As I am ever mentioning, the advances of science are constantly giving us a clearer view of the past even causing Mythology to become History as in the case of the Trojan Wars, the legendary Helen of Troy, and the Trojan Horse.

The archaeological excavations of Troy may prove the existence of the city of Troy and the Trojan War. They in no way make The Iliad a history book however, because of the un-provable spiritual and religious occurrences in the narrative.

This sorting out of myth and legend from history is no less difficult today because of their intertwining influences on one another.
Did you know the real life Robin Hood ( before the legend was Christianized ) actually fought the ancient Romans during the reign of Emperor Claudius and was really a Celtic Warrior named Caracticus? Consider 20th century American President Theodore Roosevelt. He lives in history because of his heroic charge up San Juan hill with his legendary roughriders. When this story was printed in William Randolph Hearst's newspapers it catapulted him to fame and ushered him into the White House as a glorious American War Hero. Everyone has seen the paintings and statues of Teddy Roosevelt and his roughriders dressed in khaki, mounted on horseback and charging fearlessly forward waving their swords. In reality, it was a group of Heroic African American Buffalo Soldiers who took San Juan Hill in spite of their heavy casualties. They did not wear khaki. They were not mounted on horseback, but were foot soldiers in the same dark blue uniforms of the U.S. cavalry as worn during the Indian Wars. Roosevelt's group actually took a nearby Hill against light resistance but Hearst said that would not sell newspapers so he created an American Myth. So as we see, here is something taught to children in schools as history is just not true at all, but yet, this myth shaped the true history of the world in the 20th century and beyond.
If Teddy Roosevelt had not been elected president, neither would his nephew, Franklin Delano Roosevelt, who provided very real and crucial leadership during the Great Depression and the Second World War. Neither would Theodore Roosevelt have built the Panama Canal or established the conservation of our natural resources. So here we see Modern Myth not only influencing, but creating History. In reality, I perceive Theodore Roosevelt was a much greater president than history gives him credit for. Although it is true his kindness created the "Teddy Bear", he really was also fit and trim, vigorous and active, and a very tough president in his foreign policies. He was instrumental in America's emergence as a world power. It is also true that he came from the upper upper class - old money in New York with a background of great wealth and limitless luxury and chose to be an outdoorsman, a cowboy, and soldier. When he was given office, he embraced the concept of being a good Shepherd , of seeking justice for all Americans - for this he was called a" traitor to his class".
Actually, he is the savior of his class. In my estimation, it is President Theodore Roosevelt who is most responsible for the end of the then imminent threat of communist revolution or takeover in America. Throughout the early 20th century Socialist Revolutions were sweeping across the globe. Conditions for the workers in America were appalling. Child Labor, dangerous working conditions, ungodly long hours, degradation, and shockingly low pay. When Karl Marx wrote his "Communist Manifesto" he never dreamed of an affluent MIDDLE class. A middle class that is comfortable and savoring, life, liberty, and the pursuit of happiness is not going to rise up in murderous anger and "Storm the Bastile". What Global Communism could not contend with was America's happy and prosperous middle class. Theodore Roosevelt practically invented America's affluent middle class and eliminated the threat of Communist revolution in America. Although he was well loved, he was also hated and caught tremendous heat from the wealthy elite for sharing a small portion of their wealth with the common man. He saved them from a Second American Revolution by customizing capitalism to a kinder, gentler form than the horrors of the late 19th century. Like General Winfield Scott, who won The American Civil War before it started, he defeated his foes with an idea. If the Robber Barons had had their way, their greed could well have caused America to fall to communism. Today, we have a new generation of robber barons but no Teddy to stand up for the little guys. I feel the true history about American President Theodore Roosevelt is more amazing than the myth, but they are interwoven and inseparable, without the one, we would not have the other. He was both a glorious and a tragic figure. As a leader and as a man I believe he is badly underestimated. It was only when his beloved son, nicknamed "Quinnykins" died fighting in World War One that he finally saw through all the myths and glamour to see the awful truth about war face on. He never got over his guilt for glorifying war to his son. We could all learn a lot from his experiences.
War costs money...trillions of dollars. War takes human lives...millions of them! War makes children old, breaks parent's hearts, kills morale. War destroys cities, art treasures, civilization! The first world war alone cost thirty million lives and 4 trillion dollars when adjusted to the buying power of modern U.S. dollars. With the money at the time we could have built a three bedroom two bath house furnished with fine hardwood furniture on five acres of quality land for every family in The United States, Canada, Australia, England, Scotland, Wales, Ireland, France, Belgium, Germany and Russia. There would have been enough left to build and stock a first class library and a proper university in every town of 20,000 people or more. Out of the balance we could pay the salaries for life of 125,000 teachers and 125,000 nurses. The remaining balance could have bought 1919 Belgium and France and everything in them.
I see History as an endless waltz. Three beats over and over. War, Peace, and Revolution. Three beats over and over in an endless cycle of death, destruction, and regeneration. An Endless Waltz... and those who do not learn the lessons of history are doomed to dance this deadly waltz and pay this Frightful price for War. As modern technology such as jet aircraft and thermonuclear missiles make the world smaller & more dangerous everyday, tolerating each other's racial, social, & religious differences & living together in peace has now become key to the continued survival of mankind through the 21st century...
~H D Johnson 2003
CLICK ON THESE LINKS OR E-MAIL FOR THE JOHNSON GALLERIES' VARIOUS BUSINESS SERVICES:
PUBLISHING LICENSES * ORIGINAL ART * POSTER ART * ART BOOKS * ART INSTRUCTION * BOOK COVERS * COMMISSION PORTRAITS
*****